Published 06/14/2016
ARLINGTON, Va. – A quartet of poignant, real-world examples that clearly demonstrate the need for and value of protecting families against financial hardship with insurance have been chosen as the 2016 recipients of the Real Life Stories client recognition program by Life Happens.
The industry nonprofit announced this year's recipients of the Real Life Stories client recognition program on Monday. The annual program celebrates insurance agents and advisors for their outstanding professional and personal commitments to supporting clients and their families in times of need.
The program helps raise awareness about the value of insurance coverage as part of a sound financial plan, as well as the critical importance of seeking professional advice. The stories of this year's four winners bring to light how insurance coverage greatly benefits families facing adversity due to a disability or an unexpected death of a loved one.
"There is tremendous value in seeking professional advice when it comes to financial planning. This program celebrates the moments when guidance and adequate insurance protection has assisted families through the toughest times," said Marvin Feldman, CLU, ChFC, RFC, President and CEO of Life Happens. "This year's recipients should be proud and honored by the number of lives they've impacted. Too many Americans either misunderstand the benefits and costs of life insurance, or do not have the right policy in place to meet family needs and protect loved ones. When it comes to life, disability and long-term care insurance, meeting with a professional adds great benefit."
The 2016 Life Happens Real Life Stories award recipients are: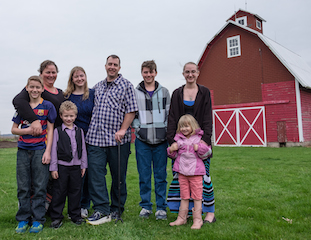 • Tom Bader, COUNTRY Financial, Lacon, Ill.: When Travis Guthman, his wife, Wendy, and their children moved back to their hometown in Illinois nearly a decade ago, they set out and opened a pizzeria. Travis devoted himself whole-heartedly to the business – running it practically single-handedly — and throughout the years, the pizzeria and its success continued to grow. Life insurance agent Tom Bader would speak regularly with the couple about their coverage including discussions on the growing business and their newly acquired farmhouse. When Tom spoke with Travis for a spring review in 2009, Tom described the risk it posed to both the business and his family's lifestyle if anything were to happen to Travis. With Tom's encouragement, Travis purchased a disability income policy to cover immediate monthly living expenses. In 2014, Travis lost control of his vehicle after using his cell phone while driving. Travis suffered serious injuries and was forced to spend weeks in intensive care and was unable to attend to his restaurant. Thanks to the disability insurance coverage that Tom recommended, Travis' income was replaced and his family was protected. The insurance also allowed him to keep his business afloat and keep it running. Since then, Travis spends time speaking to groups and local driver's education classes about the importance of not using cell phones while driving. To see more, watch the video at www.lifehappens.org/guthman.
• Wallene Leek, FSCP, LUTCF, LTCP, New York Life Insurance Company, Franklin, Tenn.: Kelley and Doak Snead were living happily in Nashville, Tenn., bound by their love for each other and passion for making music. As Kelley developed her new career in real estate and Doak focused on raising their daughter, Emma, they knew they needed the financial safety net that life insurance offered – and Wallene Leek helped to make sure the family was well protected. Wallene not only increased Kelley's life insurance over time, but also made sure that it had living benefits, as well. The coverage proved critical to the Snead family when Kelley – the family's main breadwinner – was diagnosed with a terminal drug-resistant type of Parkinson's disease, which slowly took away her ability to work and care for herself. The family has greatly benefited from their insurance coverage – Kelley does not have to pay for premiums, the family kept their home and they have been able to spend time together unfettered by financial burdens. To see more, watch the video at www.lifehappens.org/snead.
Next page: 2 more winning stories